AG INSIGHT | 10/11/2017
Green energy has a new name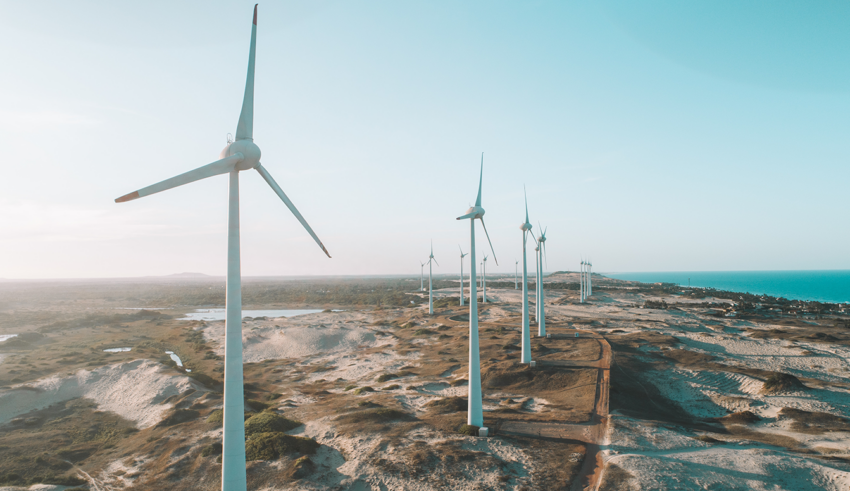 We've outgrown our fossil fuel roots – so we're changing our name, says Jane Cooper, Senior Manager Stakeholder Relations & Regulatory Affairs UK at Ørsted in a review of DONG Energy's name change to Ørsted.
What's in a name? Well, for companies around the world a name can mean an awful lot. A company name should embody the spirit, direction or ambition of that business.
So, let's have a look at some examples – starting with an easy one. Global luggage manufacturers Samsonite. Named after biblical strongman Samson, famed for his immense strength. Certainly a quality you'd want from your suitcases.
Perhaps less obvious is Vodafone, a name most are familiar with, but few realise that it represents three things – Voice, Data and Telephone. Simple, but effective – summing up the three areas in which the company aims for excellence.
We're changing our own name, because as DONG Energy (which stood for Danish Oil and Natural Gas), we've outgrown our fossil fuel roots and taken positive steps towards our green transformation. We have divested our upstream oil and gas business, have decided to stop all use of coal and have become the world's largest developer of offshore wind. Our journey on this green transformation means that our old name no longer fits – for obvious reasons.
Our new name is Ørsted (pronounced Ur-sted), after Danish scientist Hans Christian Ørsted who helped lay the foundations for the way we produce power today. He spearheaded several key scientific discoveries, including the discovery of electromagnetism in 1820.  Inspired by his curiosity, innovation and dedication, we think this new name truly reflects our transformation into a fully-fledged renewable energy company.
Our offshore wind business is part of a successful and growing UK industry, providing a substantial source of green energy for the nation, as well as opportunities to export products and services overseas – creating high quality jobs and a thriving supply chain.
It's been a hugely significant year for our offshore wind operation. In May, we completed work on Burbo Bank Extension wind farm, featuring the world's biggest offshore turbines, opened a new £6million base to support its operation and took our first steps into battery storage.
In July, the first ever wind turbine blades manufactured at the Siemens blade factory in Hull were fitted at our Race Bank project, off the coast of North Norfolk.
August saw the first power generated at our 659MW Walney Extension, off the Cumbrian coast, which will become the world's largest operational wind farm on completion in 2018.
In September, we were awarded a contract to build an even larger offshore wind farm – Hornsea Project Two – at the lowest ever £/MWh price of £57.50, which is more than a 50% reduction on the previous round of contracts. This project alone will be capable of bringing green energy to more than 1.5 million UK homes, supporting more than 2,000 jobs throughout its construction and up to a further 130 permanent jobs during its long-term operation.
We are also nearing completion of our world first bio-energy plant in Northwich. The project is a brand-new waste-treatment facility, which will separate recyclable materials from household waste and generate green electricity at the same time. The plant will use our patented Renescience technology and will be the first full-scale bio-energy plant in the world capable of handling household waste through enzymes, mechanical sorting and anaerobic digestion.
We believe that the best way forward is to embrace clean energy. Consumers are increasingly environmentally conscious and more likely than ever to expect businesses to act responsibly right across their supply chain. Big business leads the way, with some of the world's most influential organisations signed up to RE100 – experiencing a range of benefits by opting for renewable electricity, including increased competitiveness and speedier delivery on emissions goals.
We've made it easier for businesses to adopt an environmentally-conscious approach by removing the premium associated with renewable electricity, enabling businesses to "go green" without commercial disadvantage and keep sustainability at the heart of their operations.
As more renewable generation is introduced to the energy system, it's ever more vital to have the support of businesses to help plug gaps in supply and demand to keep the system balanced. We have developed a suite of products, enabling businesses to take a holistic energy strategy that includes energy reduction initiatives, flexible consumption and Demand Side Response (DSR).
With our new name comes a renewed determination and we are taking real steps to help drive the green energy transformation. We know there is even more work to do if we are to realise our ambition and vision to create a world that runs entirely on green energy.
So, what is in a name? For us, Ørsted reflects where we have come from and where we are going on our green transformation mission. I hope Hans Christian Ørsted would be proud of the innovative and pioneering spirit that drives the company which now bears his name.
 Jane Cooper is Senior Manager, Stakeholder Relations & Regulatory Affairs UK at Ørsted